"How to video"- Turn On File Extensions in Windows 7
"How to video" – INSTALL WMP11 plug-in part1
"How to video" – USE WMP11 plug-in part 2
 Instructions:
Step 1. First you must have the "Administrator" level of access rights on you pc.
Click here for more info
Step 2. Download  Windows Media Player ~ This plugin is for version 11 upwards
Step 3. Download & Install .NET Framework – version 2.0 or above.( Note: not needed for Visa / Win 7 + Win8.1 + Win10  > installed already )
Step 4. Download & Install "setup_64.ex1″ ( or right mouse click " save target as" over the link)
Step 5. RENAME "setup_64.ex1" to "setup_64.exe"  > if you can't see the .ex1 file extension you may need to "Turn On File Extensions in Windows 7"  (opens another window)
( we had to do this to get by your computer firewall + antivirus programmes )
This is the installer program which will guide you through the installation process.
Basic Pedal setup on a PC with Win8.1 (goes to another page)
Basic Pedal setup on a PC with Win7
click on the Start button > on the left of the taskbar
type "games" into the search
Select – Set up a USB game controllers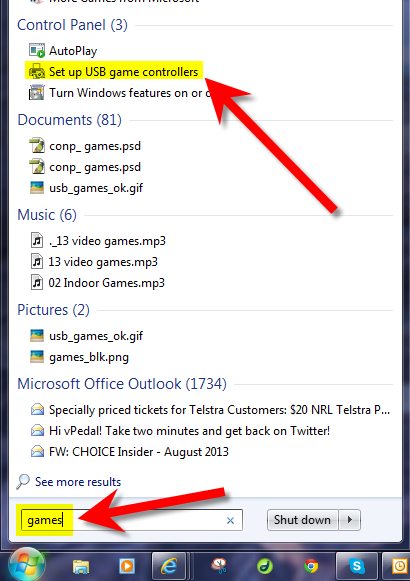 or basic Pedal setup on a PC with Vista installed
1. Click on start button >Control Panel > Game Controllers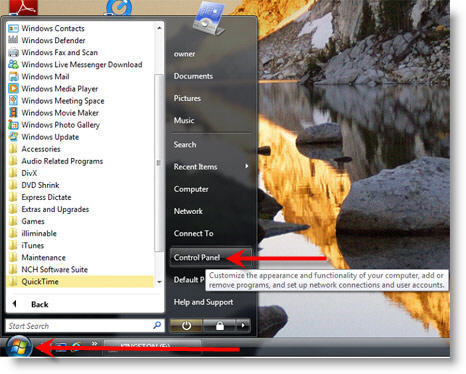 continued setup info for both vista + win7

Click on Properties… (as above)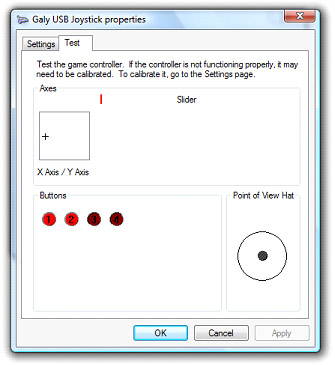 To Test > Press "Play"on the vPedal – the display will light Buttons 1 + 2
( as above )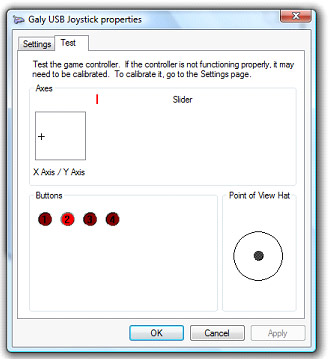 Press "Fast Forward" on the vPedal – the display will light Button 2
( as above )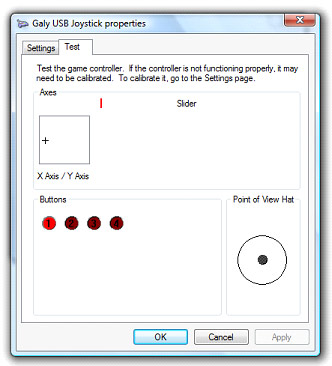 Press "Rewind" on the vPedal – the display will light Button 1
( as above )
vPedal is now talking to windows
Press "Ctrl + M" ( i.e. with WMP selected hold the Ctrl key and press M ) enable Show Menus
Press "Ctrl +2"  to enable the Skin View – is the most useful view
Enable vPedal Plugin
To check select click on > Tools > Plug-ins> ensure that the tick appears next to vPedal Plugin ( as per the image below )

Place the Settings Dialog Box on your desktop
this is accessed from START > All Programs > vPedal Windows Media Player 11 Plug-in directory ( as per the image below ). If you need to change these settings often, you can make a shortcut & place it on your desktop.

You now use the dialog box below to set Rewind & Fast Forward increments, as well as the Release Back setting. The Tap Enabled option allows you to "tap" the pedal to start playback > i.e. You don't need to keep pressing the pedal to continue playing.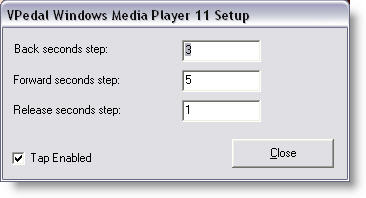 If you can't see the vPedal WMP11 Settings you may need to goto Control Panel Folder Options click "show hidden files and folders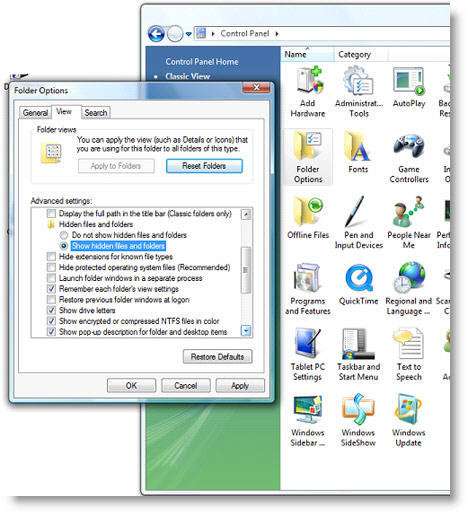 To access the Varispeed function:
Press "Ctrl +3"  to change to "Now Playing" view
Right Click your mouse > View > Enhancements > Play Speed Settings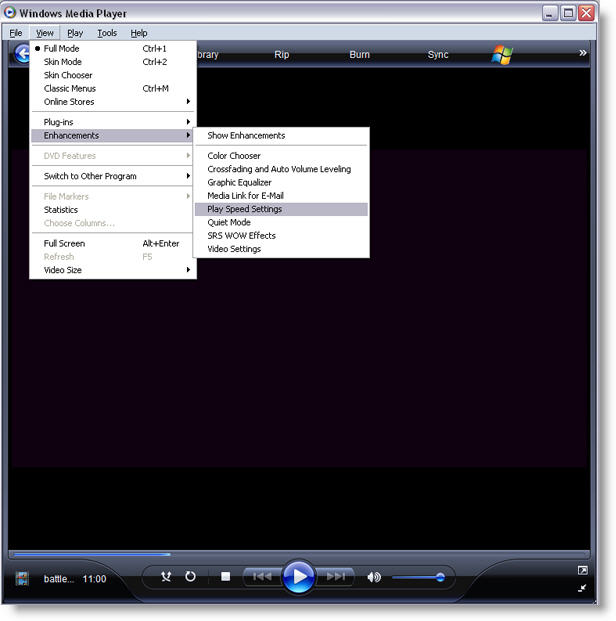 ( please note: not all file formats will allow this function to work)
To close a playing file >  Ctrl+ W
Extra Codecs:
It is well worth installing extra codec's into the "out of the box"  version of Windows Media Player. The more Codecs you install the greater the number of file types that can be played back such as   .mp4 or .mov files.
The CCCP Project is such a site that allows you to install a lot of extra codec's
Mobile Phone Audio ~ AMR
Sony® Player Plug-in for Windows Media® Player Update (version 2.1.02)
Windows 7 Codec Pack – download from cnet
Windows Essentials Codec Pack 4.2
Install Tip: Streaming Audio ~ How to..
Please Note: The extent that you can control the files you are playing back has a lot to do with which format the files has been encoded. ( Which we have no control over ) We have found that some video formats DON'T allow the rewind + fastforward & varispeed features to operate.
Also long videos can cause issues with backspacing, you may need to edit / split the video into shorter lengths.
A
"how to"
split / edit video from Youtube
Install Tip: if you are using a USB version of a vPedal please ensure that "Galy USB Joystick" is selected in the Preferred device" option in the Advanced Settings.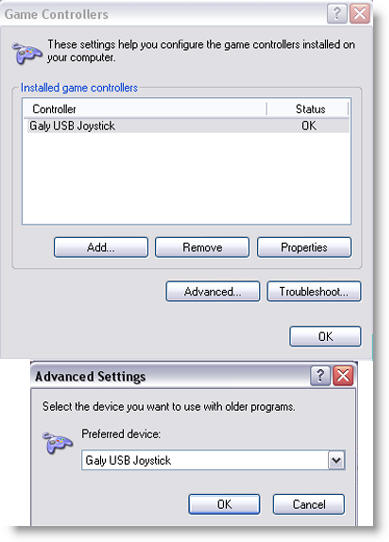 Install Tip: Please only have the Galy USB joystick or the vPedal dongle  installed on your PC ( like the image above ). Having several joystick devices installed on your PC can confuse the software causing the vPedal not to talk with the software.
Features:
This is a new totally rewritten Plug-in.It has all the same features as the earlier application but now you can use the standard windows Media player interface.
If you are using the earlier version of WMP i.e. WMP9 + WMP10 please use the old plug-in.
Note : this is a 64bit version BUT works on non 32bit versions of windows