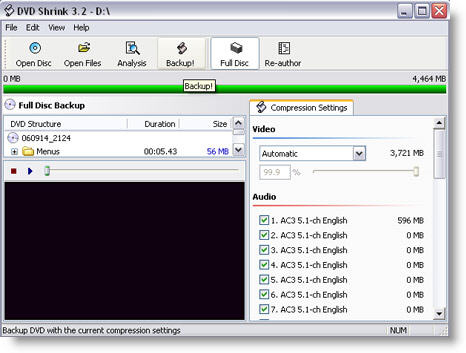 Whilst it is possible to transcibe directly from CD's / DVD's we would suggest that you copy the audio/ videos from the CD / DVD's  and transcribe the video / audio files from the h/drive of your pc ~ instead of from the CD / DVD's
It will be quicker & operate more smoothly that way.
The reason for that is that the CD / DVD drive mechanisms aren't really design to do the rapid stop / start / backspace operations that is common place in the transcription process.
DVDShrink – is a free application that allows you to extract the DVD information onto your PC
Disclaimer:
THIS SOFTWARE IS PROVIDED BY THE COPYRIGHT HOLDERS AND CONTRIBUTORS "AS IS" AND ANY EXPRESS OR IMPLIED WARRANTIES, INCLUDING, BUT NOT LIMITED TO, THE IMPLIED WARRANTIES OF MERCHANTABILITY AND FITNESS FOR A PARTICULAR PURPOSE ARE DISCLAIMED. IN NO EVENT SHALL THE COPYRIGHT OWNER OR CONTRIBUTORS BE LIABLE FOR ANY DIRECT, INDIRECT, INCIDENTAL, SPECIAL, EXEMPLARY, OR CONSEQUENTIAL DAMAGES (INCLUDING, BUT NOT LIMITED TO, PROCUREMENT OF SUBSTITUTE GOODS OR SERVICES; LOSS OF USE, DATA, OR PROFITS; OR BUSINESS INTERRUPTION) HOWEVER CAUSED AND ON ANY THEORY OF LIABILITY, WHETHER IN CONTRACT, STRICT LIABILITY, OR TORT (INCLUDING NEGLIGENCE OR OTHERWISE) ARISING IN ANY WAY OUT OF THE USE OF THIS SOFTWARE, EVEN IF ADVISED OF THE POSSIBILITY OF SUCH DAMAGE.
Download & install DVD shrink ( you must be on line to download)
click on"Open Disk" icon
choose your Dvd Drive > click "OK" the application will scan the contents of the DVD
when it has finished > click on the Backup! icon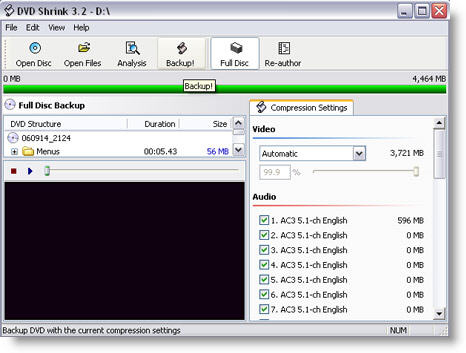 set the "Target Device" settings to "Hard Drive Folder" +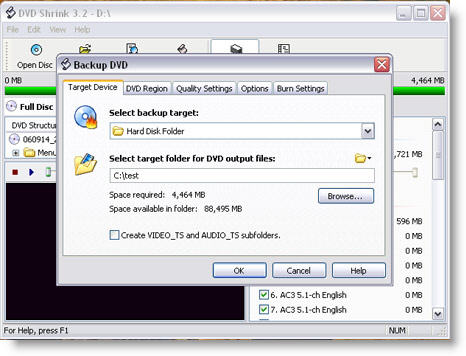 now you can open the .vob files in WMP to transcribe