vPedal Hotkey or Mouse Click Application – Version 3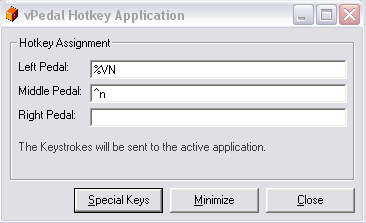 It has been tested on XP / Vista, Windows 7 & Windows 10, but we specifically disclaim any liability and we do not promise to have any particular enhancements available on any specific date.
Please only use the "Hotkey" function or the "Mouse Click" function when the programme is enabled. Having settings in both sides of the application could cause unexpected results when you are operating your pc.
Click Here to download ( save to the desktop )
Inside "vp_hotkey_setup3.zip" there is an installer program which will guide you thru the installation process.
How to Videos:
How to Video ( HotKey Assignment only – High Quality – Flash)
How to Video ( HotKey Assignment only – Lower Quality – WMV)
or
The program once installed and started, is available on the right hand side of your task bar ( its icon is the pen on paper icon shown below)

You right click on your mouse when your mouse arrow head is above the pen on paper icon that will open the settings window of the application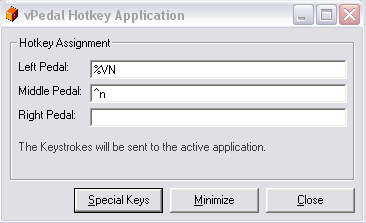 The Hot Key ( Left Hand Side )
In the example shown above the "Left Pedal" settings are the equivalent to pressing "Alt + V + N" keys, the Middle Pedal: is equivalent to pressing the "Ctrl + n" keys
It can also send extended characters which can be used in the left hand side of the HotKey Assignments. The Special Keys listing is opened by clicking on the Special Keys button.
To enter the "spacebar" setting into the hotkey application you just click with your mouse into one of the dialog boxes then just press the space bar (once ) > you should see the cursor move to the right one space BUT nothing will display.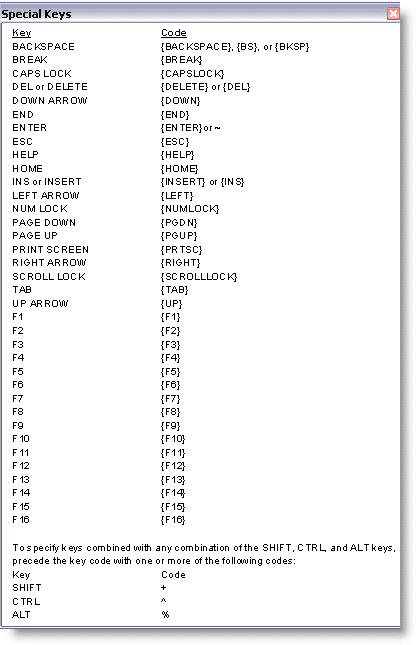 The Mouse Click ( Right Hand Side )
by clicking on the drop down boxs on the Right Hand side of the application ( as per the image below ) you can assign the mouse click function you require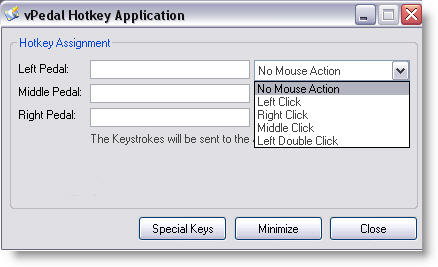 for example in the image below
The Left Pedal will now send a Mouse Button Left Double Click
The Center Pedal will now send a Mouse Button Left Click
The Right Pedal will now send a Mouse Button Right Click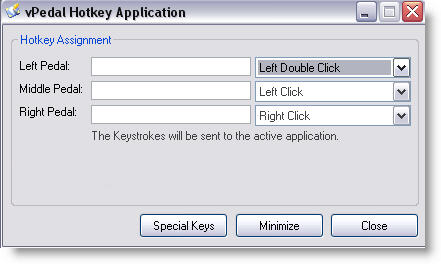 and by continuosly pressing down on the pedal after you have assigned the click you require the lasso function is available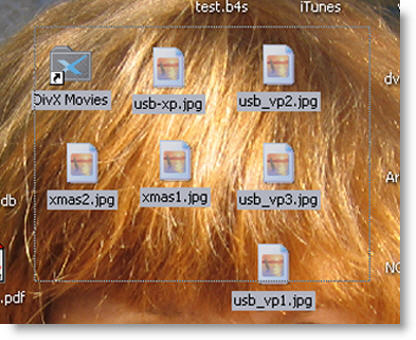 This is freeware application was developed with the assistance of and with special thanks to Simon Smith & Richard Rath