The information below is ONLY for the discontinued vP-4 MKI click here for the MKII info
The LEDs on the top of the vP-4 pedal DO NOT operate during normal operation. this is to ensure maximum battery life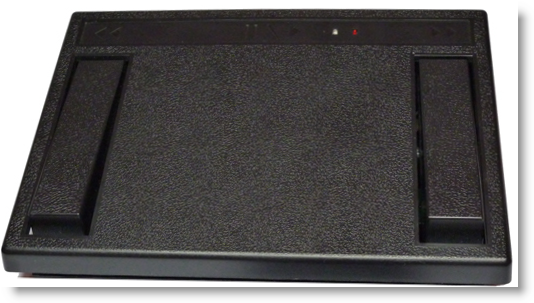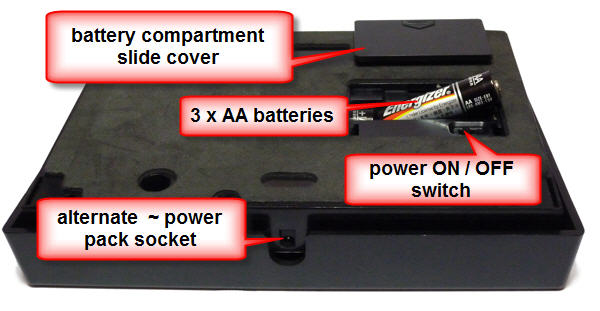 First time install
1. Unpack your QWO / vP-4 pedal
2. Turn the footpedal upside down and slide off the battery cover
3. Place 3 X AA batteries inside the battery compartment ensuring that the batteries are all aligned in the same direction ( not supplied )
4. Set the power switch to the ON position
5. Slide the battery cover back into place ensuring that it clicks closed
6. Plug the USB / receiver dongle into your computer
7. Wait a minute or so for the USB drivers to install ( this is an automatic operation on most modern operating sytems such as Xp > Win7 / OSX )
8. Quick wireless hardware test ~ press on the centre of the foot pedal / transmitter and you should see the a green led flash at the same time in the usb dongle / receiver when it is connected to your pc

9. Quick software test
How to Video – ( Windows Media Video) Win98SE/ME/Win2K/XP/Vista & Win7
How to Video –  MAC OSX
for PC's
Click on start button > Settings > Control Panel > Gaming Options / Game Controllers
It should show ~ Galy USB Joystick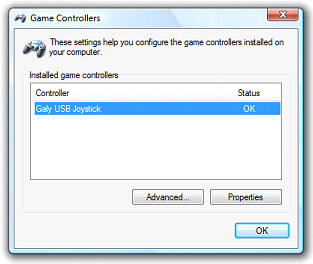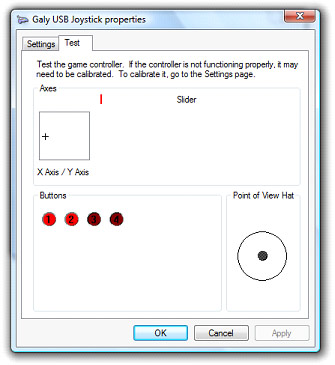 Click on Properties > Test > Press "Play" – the display will light Buttons 1 + 2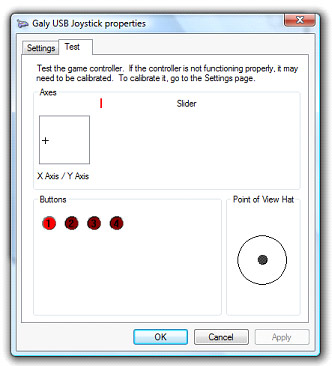 Press "Rewind" or "<<" – the display will light Button 1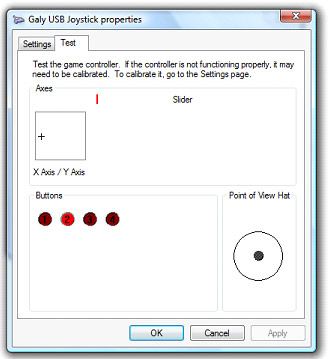 Press "Fast Forward" or ">>" – the display will light Button 2
Dimensions:
Footpedal – Transmitter ~ 194cm (l) x 142cm (w) x 40cm (h)
USB dongle – Receiver ~ 67cm (l) x 30cm (w) x 15cm (h)
Techincal Info:
Model = vP- 4
Colour = Black
Weight = approx 1kg
2.4 GHz wireless ~ 3m approx range
3 X AA batteries – approx 6 month battery life
(Can be used with high quality rechargeable batteries)
Low battery / replace battery indicator on the top of the pedal
You can use is any universal power pack which is rated @ 5volts DC – 100ma with the  3.5 mm plug to power the footpedal.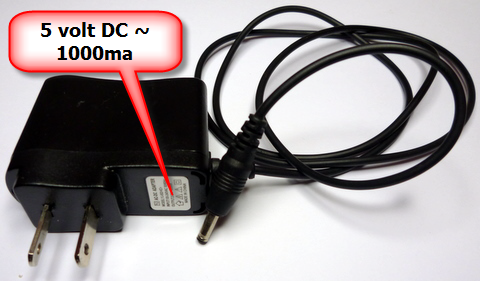 (such as an older style Nokia Phone charger  )
The 2.4GHz wireless link has been integrated with magnetic switching by our engineers in a design optimized for low power consumption. This should deliver long battery life in normal use.
An added benefit of the magnetic switching is that it is "quiet" ~ for noise sensitive environments
QWO has been tested on PCs & Mac's and is fully compatible with all the vPedal software plug-ins.
QWO has achieved FCC + CE certification.
A short explanation of how the QWO / vP-4 wireless link works
When the QWO / vP-4 is switched on a wireless channel is established.
QWO / vP-4 tries to avoid collision by seeking slots within the wireless transmission band where no data is transferred. Because the data packet is extremely small, it can be accomplished by repeated retries.
If the wireless channel is unable to be established the transmitter seeks an area of the spectrum which is quiet and agrees with the receiver to use that part of the spectrum for communication. Since the QWO / vP-4 wireless system only uses part of the 2.4GHz spectrum for communication, there are always bands in which the activity is minimal.
Each foot pedal (transmitter) and USB (receiver) dongle are pre-linked at the factory.
254 unique address available – to avoid interference with other QWO / vP-4 units.
NOTES:
It is possible that a VERY VERY strong Magnetic device could cause a mis-trigger / pedal activation of the QWO, So it is highly advised that you keep the QWO away from such environments