Pls note
that support for the Serial Ports is very limited ~ it is acknowledged
as part of the"Legacy Ports" on a PC none of the vPedal Plug-ins work with it.
Step 1:
Plug your vPedal into an available serial port
Note: generally there are two serial ports on the back of your pc please take note of the number of the serial port you have plugged into.
Step 2: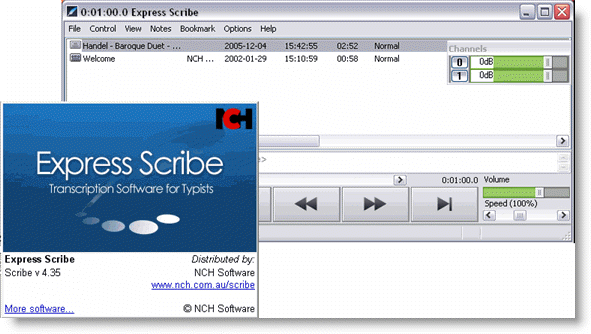 Install Express Scribe
Click here to install (run from location)
 
Click on Options > Pedal and Hot Keys (as above)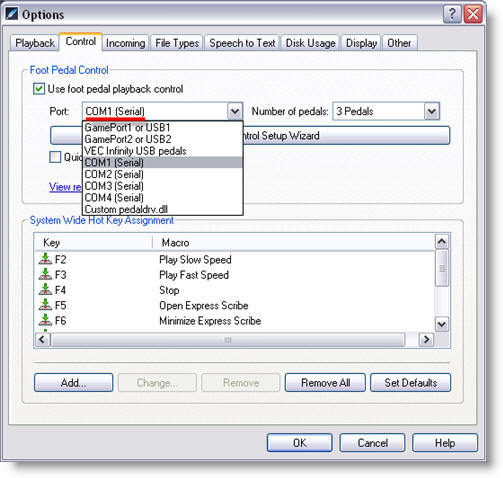 Click on the Tab labelled Control (ensure that your settings match the above image)
For example: Use Foot Pedal Playback Control is ticked.
COM 1 ( Serial ) is selected and 3-Pedals is also selected.
( Note if you have plugged your pedal into COM port # 2 it is at this point you select it from the drop down menu labeled Port:)
Then click on the "Foot Pedal Control Setup Wizard" and the follow the dialog prompts



Congratulations!!
vPedal is now fully operational
If you want to set Auto – Back space (default is set to 0000)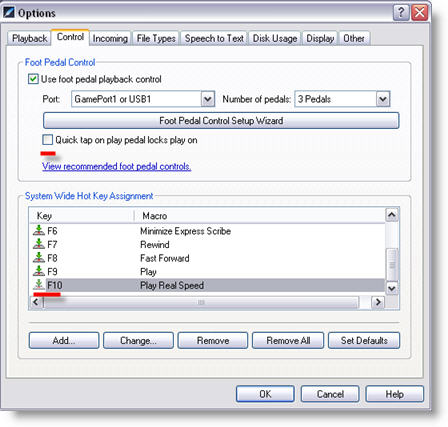 Quick Tap ~ Reset to play audio at normal speed