Disclaimer:
THIS SOFTWARE / ADVICE IS PROVIDED BY THE COPYRIGHT HOLDERS AND CONTRIBUTORS "AS IS" AND ANY EXPRESS OR IMPLIED WARRANTIES, INCLUDING, BUT NOT LIMITED TO, THE IMPLIED WARRANTIES OF MERCHANTABILITY AND FITNESS FOR A PARTICULAR PURPOSE ARE DISCLAIMED. IN NO EVENT SHALL THE COPYRIGHT OWNER OR CONTRIBUTORS BE LIABLE FOR ANY DIRECT, INDIRECT, INCIDENTAL, SPECIAL, EXEMPLARY, OR CONSEQUENTIAL DAMAGES (INCLUDING, BUT NOT LIMITED TO, PROCUREMENT OF SUBSTITUTE GOODS OR SERVICES; LOSS OF USE, DATA, OR PROFITS; OR BUSINESS INTERRUPTION) HOWEVER CAUSED AND ON ANY THEORY OF LIABILITY, WHETHER IN CONTRACT, STRICT LIABILITY, OR TORT (INCLUDING NEGLIGENCE OR OTHERWISE) ARISING IN ANY WAY OUT OF THE USE OF THIS SOFTWARE, EVEN IF ADVISED OF THE POSSIBILITY OF SUCH DAMAGE.
Whilst it is possible to transcibe directly from CD's / DVD's we would suggest that you copy the audio from the cd's > and transcribe the audio files from the h/drive of your pc ~ instead of from the CD / DVD's
It will be quicker & operate more smoothly that way. The reason for that is that the CD / DVD drive mechanisms aren't really design to do the rapid stop / start / backspace operations that is common place in the transcription process.
You can use Audio Grabber ( freeware )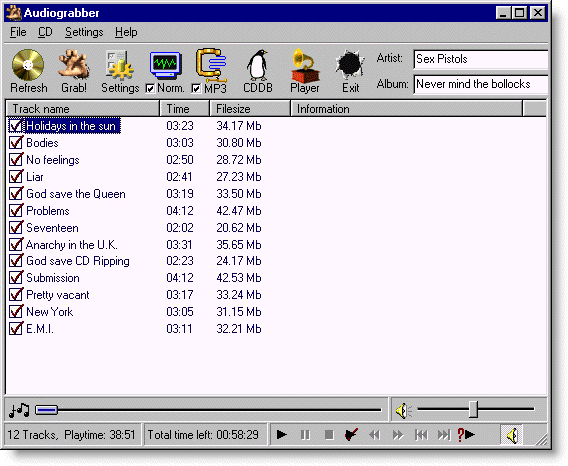 download & install Audio Grabber ( you must be on line to download)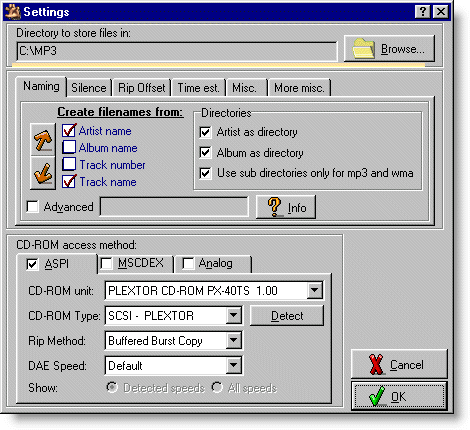 copy the audio to a directory that you can then load into your favourite transcription application

NOTE: you don't have to convert the audio into a mp3 just untick that option in audiograbber
or alternatively you can use Express Scribe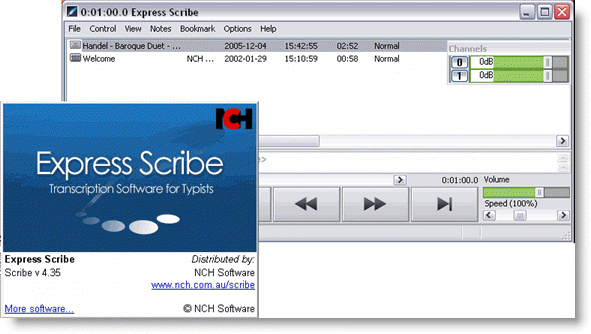 Express Scribe has an import cd function built-in
File > Load Audio Cd tracks ~ or Ctrl + Shift + C
When File > Load Audio CD Tracks is clicked Express Scribe will automatically detect any Audio CDs in all CD-ROM drives. The main display will list all track names and durations for the CD in the selected drive. Any time you eject a CD or load a new one, click refresh to update this display.
Highlighting and selecting load will rip each of the tracks selected and load them into Express Scribe.
Please Note:
If Express Scribe does not detect any tracks on your CD, or the tracks have strange looking names, please verify your audio CD files have a .cda file extension. If they do not, then Express Scribe will not be able to properly read the audio files. In such situations, it is likely the files are stored as data on your CD, so you should be able to use Windows Explorer to copy and paste the files from the CD to your hard drive.
You cannot run Express Scribe in Restricted User mode and still be able to use the CD Drive due to limitations in how Windows deals with CD drives.